3CX Advanced Certification

The Final Step: Earn Your 3CX Advanced Certification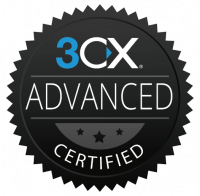 The last certification of the 3CX Academy course is the Advanced Certification. This course consists of seven modules which cover the more advanced settings of 3CX. These include: Bridges, Inbound and Outbound Routing, Security and Anti-Fraud as well as Basic Troubleshooting. Each module provides you with course content, supporting documents and some sample questions to make sure you are ready to take the exam.
Follow the course
Click on any of the modules below to get a detailed overview of what's covered, the course content and supporting documentation.
Are you ready? Take the test now.
To pass the test and obtain your Advanced Certified certificate, you must achieve a minimum score of 25 out 30, otherwise, you can take a resit in 30 days.
Course Features
Lectures

7

Quizzes

1

Duration

4.5 hours

Skill level

All levels

Language

English

Students

162

Certificate

Yes

Assessments

Yes
1. Ring Groups

Ringing groups, ring group options, alert paging groups and multicast paging groups. All very useful and offer many benefits and additional options. In this module, we cover what each one is and how you can configure them.

2. Queues

Setting up queues is a vital part of any call center. This module takes you through the steps required to setup your queues correctly, logging extensions in and out of queues, manager and agent rights and more.

3. Configuring Inbound Routing

When setting up inbound rules, life can be made much easier if this is done based on CID (Caller Identification). This module takes you through the concept of CID inbound routing, how to add CID inbound rules and how to reformat them.

4. Bridge Configuration

Many organizations have more than one physical location. So how can these different PBXs communicate? In this module, we explain the concept of bridging two PBX installations and how this can be setup correctly.

5. Configuring Outbound Routing

All companies want to save money. An easy way to do this is to setup Least Cost Routing within your PBX. In this module, we cover how Least Cost Routing can be setup as well as how to correctly setup and configure your outbound call routing.

6. Security & Anti-Fraud

Security is a very important issue for any business of any size. No one wants external parties peeping around their network. In this module, we take you through the security features of 3CX and how to set them up to avoid any unwanted visitors.

7. Basic Troubleshooting

Troubleshooting is a daily activity for most IT Administrators. Throughout this module, we take you through the various troubleshooting techniques such as verbose logging, the event log, email notifications and WireShark.